Address
22 Fisher Hill Rd.
E. Glastonbury, CT 06025
The nameplate that never quits
Nameplates are the foundation of what we do and Metalphoto is our go-to process when permanent product identification is needed.
As a Metalphoto Certified Converter, QNP is the largest Metalphoto distributor in the Northeast.
We have a variety of different material thicknesses, including labels, and our experts are available to assist you in determining the best option for your particular application.
Do you need MIL-SPEC-130 nameplates? You can count on QNP to produce your MIL-STD parts to meet DoD requirements.
If you have a part in mind and are curious about the cost in getting it produced using Metalphoto, either fill out the form here or click the link below.
We are here to help!
I've enjoyed working with Quality Name Plate for over 29 years. Their customer service is excellent and their quality can't be beat. Our sample plates require strict hole size tolerances and I can always count on receiving exceptional product.
Metalphoto®
is photosensitive, anodized aluminum used to make durable, high-resolution nameplates, labels, and control panels.
Metalphoto's durability comes from its image – which is sealed inside of the anodized aluminum, providing corrosion, sunlight, abrasion, temperature and chemical resistance. Its unique, photographic imaging process creates ultra-high resolution graphics and variable information – including machine-readable barcodes, anti-counterfeit security features and serialized data.
Since its development in 1950, Metalphoto has been trusted by leading OEMs, military and government organizations for nameplate, label and control panel applications where permanence, resolution, variable data or a combination of those characteristics is required.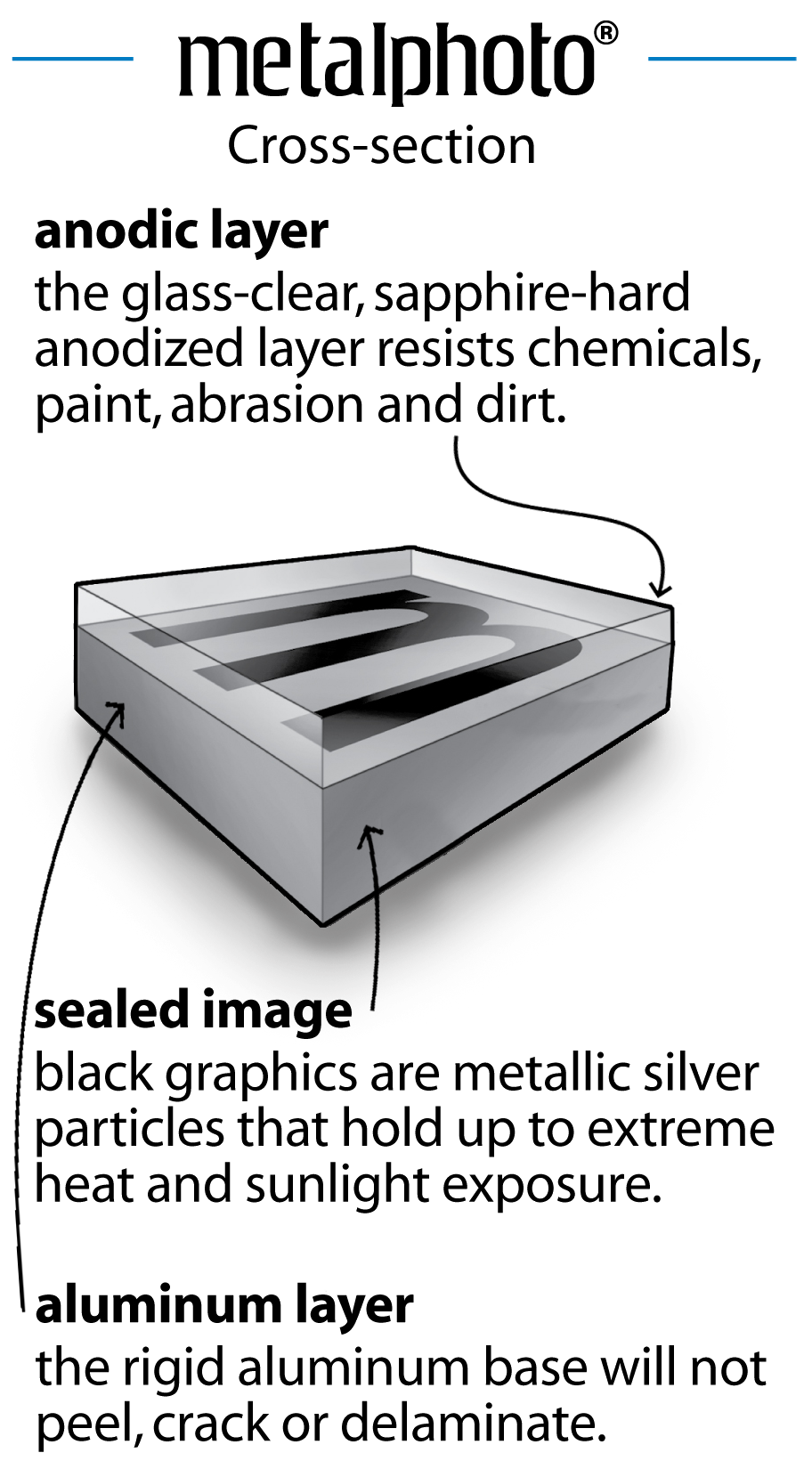 Why use Metalphoto for Your Nameplate application?
Metalphoto is resistant to many conditions commonly found in outdoor environments that would erode most identification products printed on other materials. This is why Metalphoto is the perfect material for any nameplates, signs, labels or control panels that need to stand up to harsh outdoor environments, or any project where permanent identification that will remain legible for the life of the product is crucial.
See for yourself
Check out Metalphoto's durability characteristics and you will understand why it is the go-to option for permanent product identification:
Weather/UV Resistance
Testing
A 400 hour Weatherometer Test GG-P-455P, which is the estimated equivalent to 20 years of outdoor exposure, had no affect on Metalphoto.
Corrosion Resistance
Testing
Exposure to 5% salt spray at 95°F for 700 hours had no effect on Metalphoto.
Temperature Resistance
Testing
Standard Metalphoto readable up to 500°F, Image Intensified Metalphoto readable up to 800°F. Both tested for a 24-hour oven exposure. Inquire for heat resistance up to 1,000°F.
Abrasion Resistance
Testing
7000 cycles on a Taber Abraser with a CS17 wheel, a total of 1000 gm. load, only resulted in a slight dulling of Metalphoto's surface; the image was not affected.
What makes QNP your best choice for Metalphoto Nameplates?
Metalphoto Certified Converter
QNP is the largest Certified Metalphoto® Converter in the northeast and has the ability to provide you with all of your Metalphoto® needs. Whether it's static or variable data, we have the solution for any application.
Engineering Support
If you know that you need a plate but are unsure about what would be best for your application, then we are here to help. We provide you design assistance and make recommendations that would work best for your application.
Sales & Service
Customer service is our top priority which is why we pride ourselves on how we go above and beyond for you. We provide you with quick quotes, are able to expedite orders if  needed and will always answer the phone if you call.
Our Quality Management System is registered to ISO 9001:2015,  AS9100D and ITAR, so you can feel secure working with us. If needed, we can provide you with document retention, First Article Reports and lot traceability. Let us know what you need and we know we can help.
Want a custom Metalphoto Nameplate quote?
What types of products does QNP make Utilizing Metalphoto?
QNP makes a wide variety of products using Metalphoto, including asset tags, component identification, equipment plates, plaques, and durable labels, to name a few.
What is the production time of a Metalphoto product?
Metalphoto products can be produced in is little as 1 day. Our standard production time is about 10-14 working days. If you need something fast,
contact us
and let's see what we can do for you.
Is there a size limit to Metalphoto products?
Metalphoto material is available in specific sizes. We can make very small items easily, but there is a limit as to the largest size item we can produce. As long as what you are looking for is 40″ x 24″ or less, you should be fine.
What thicknesses is Metalphoto available in?
Metalphoto is available in 6 different thicknesses: .020, .032, .039, .063, .090, and .125. If you know what your application calls for, let us know and we can quote you accordingly.
Can Metalphoto only be produced in black?
The most common application for Metalphoto is black, but we do have the ability to produce your parts in other colors. There are a few different options to achieve this, so the best way to find out how we can help is to
contact us
.
What is your stock availability of Metalphoto material?
In general, we maintain as much stock as we can process in the replenishment time. For the most part, we always have enough stock for the orders that we recieve.
Want a custom Metalphoto Nameplate Quote?